Computing
Computing at Listerdale Junior Academy
Computing at Listerdale Junior Academy intends to provide a high-quality computing education that equips pupils to use computational thinking and creativity to understand and change the world. We aim to ensure that pupils become digitally literate – able to use, and express themselves and develop their ideas at a level suitable for the future workplace and as active participants in a digital world.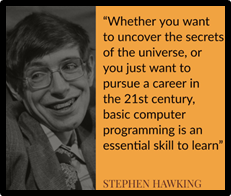 There are three main strands of the computing curriculum: information technology, digital literacy and computer science.
Information technology is about the use of computers for functional purposes, such as collecting and presenting information, or using search technology.
Digital literacy is about the safe and responsible use of technology, including recognising its advantages for collaboration or communication.
Computer science is about children understanding how computer networks work, understanding algorithms and having the ability to programme and debug on-screen games.
E-Safety
Essential Information for Parents
Most children today have access to the Internet through a variety of different devices, at home and at school – through phones, tablets, games consoles, laptops and PCs. They play games and use apps that allow them to chat with other children, share videos and photos and make in-game purchases. It can be hard to keep up to date with all the apps and games that are available to your children, but we hope to be able to help you by providing information on this page.
Useful starting points would be:
https://www.childnet.com/parents-and-carers
https://www.nationaloninesafety.com/
TikTok is a social media platform that lets you share and discover 15 second video clips.
https://nationalonlinesafety.com/guides/what-parents-need-to-know-about-tiktok
Minecraft – is a game that lets you build, create and explore virtual worlds with building blocks.
https://nationalonlinesafety.com/guides/minecraft-parent-s-guide
Roblox – is an online game and app where you can create and share your own games and games that others have made. There is an option to chat to other players.
https://nationalonlinesafety.com/guides/roblox-parent-s-guide
Instagram – is a popular photo sharing site, it is possible to comment on other people's photos.
https://nationalonlinesafety.com/guides/instagram-parent-s-guide
WhatsApp – is an instant messaging app which allows you to share photos, videos, text messages and make calls.
https://nationalonlinesafety.com/guides/whatsapp-online-safety-guide-for-parents
Snapchat – The snapchat app lets you send videos, photos and messages to your friends which appear briefly and then disappear.
https://nationalonlinesafety.com/guides/snapchat-parent-s-guide
Youtube - YouTube is a video sharing service where users can watch, like, share, comment and upload their own videos.
https://nationalonlinesafety.com/guides/8-things-parents-need-to-know-about-youtube-kids
Other useful websites include:
www.childnet.com/cyberbullying-guidance
Links for Children
There are lots of great things to do on the Internet from playing games, looking for something for school, listening to music, watching video clips or just looking for cool stuff. But you also need to know how to stay safe online and what to do if you come across something you don't like.
Think U Know for 5 to 7 year olds – 5, 6 or 7? This website has been set up just for you, to help you go on the internet in a safe way and know who to talk to if you are worried.
Think U Know for 8 to 10 year olds – showing you what's good on the Internet. Have a look at what's not and shows you ways you can get yourself out of bad situations.
Kids Smart – gives advice on how to stay safe on the Internet, whatever you are doing including searching for information, playing games, listening to music and entering competitions.
CBBC Stay Safe: Advice on Internet Safety – includes interactive clips from Tracy Beaker, a Newsround Special and Dongle's Guide to be SMART.